The Rave-O-Matic is a sound-and-light show on wheels: a portable nightclub, a mobile disco. Designed for the harsh conditions and flat terrain at the Nevada desert site of the Burning Man festival, it is battery powered and (just!) light enough to tow behind a bicycle. It exists to spread a dance club experience everywhere, from the oft-neglected back streets of Black Rock City clear out into the deepest, darkest desert reaches. It creates a temporary zone of high-tech multisensory fun, rendered surreal by the contrast with its wilderness environment.
Public Appearances

Illustrated Construction Diary

June 2005 (initial construction)
July 2005 (new hitch, new lights, fixed pole)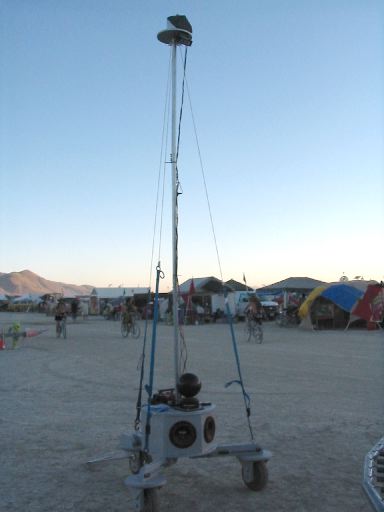 The Rave-O-Matic on the playa at Burning Man 2005
Designed, built, operated, and maintained by Mars Saxman.
You can find out more about me and my doings at my web site, Red Echo. If you want to contact me, to discuss the Rave-O-Matic or any of my other projects, or perhaps to inquire about having me build you some electronic laser gizmo art project, write to <my first name>@redecho.org.