Archived Entries for December, 2004
December 31, 2004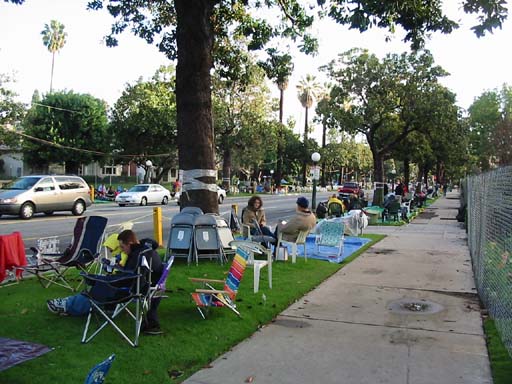 People stake out their spots for the Rose Parade more than a day in advance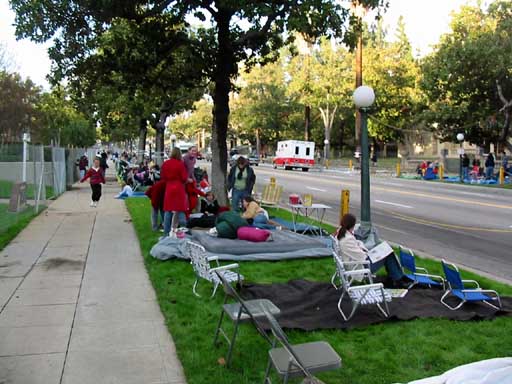 Our location was pretty good: we were only a block from the beginning of the parade route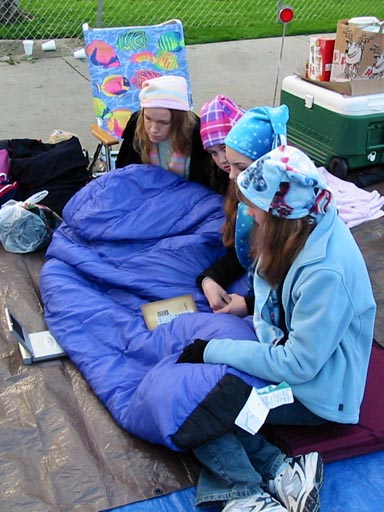 Lauren Kramp, Joanna, Carolyn, and Melinda Kramp are all big fans of "Lord of the Rings".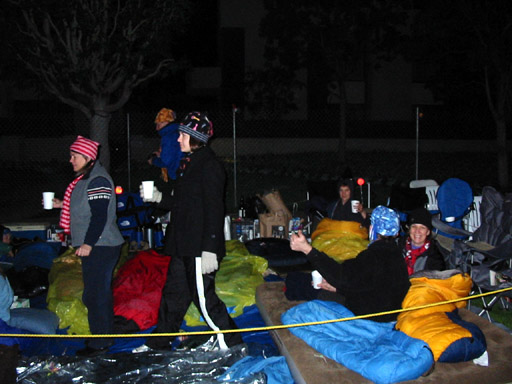 With hot chocolate and warm sleeping bags, everyone stayed in good spirits despite the cold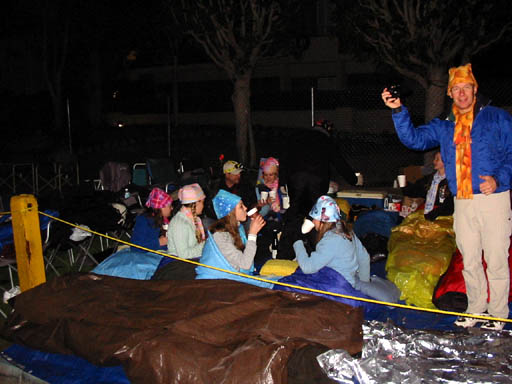 What a strange place for a family campout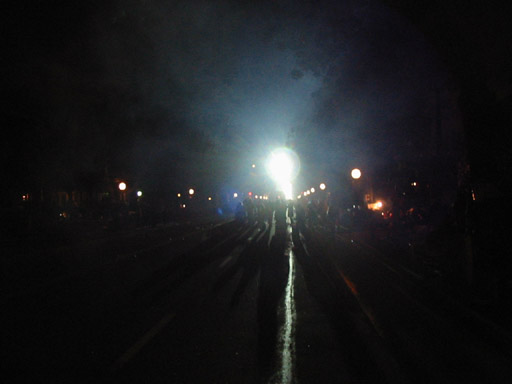 The year came to an end with the din of a thousand confetti poppers and a veritable Light of God illuminating the parade float staging area.
December 30, 2004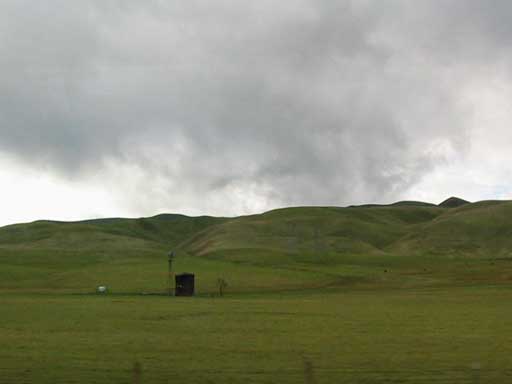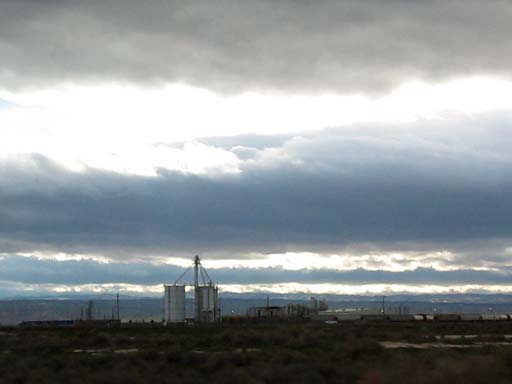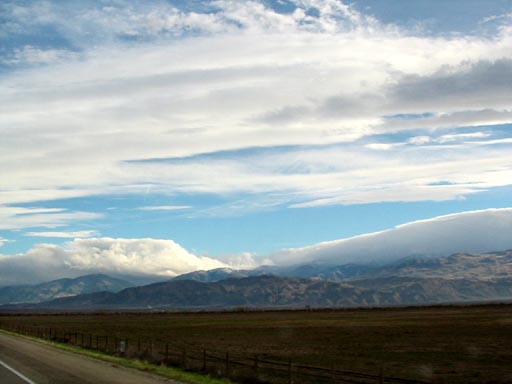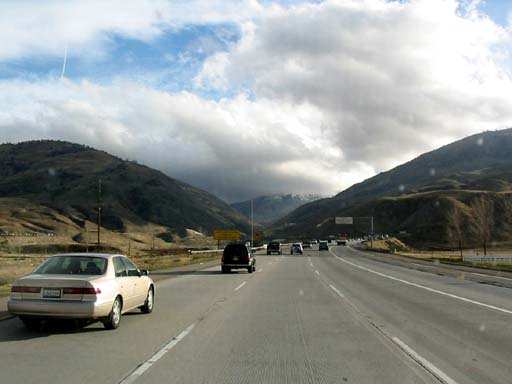 December 29, 2004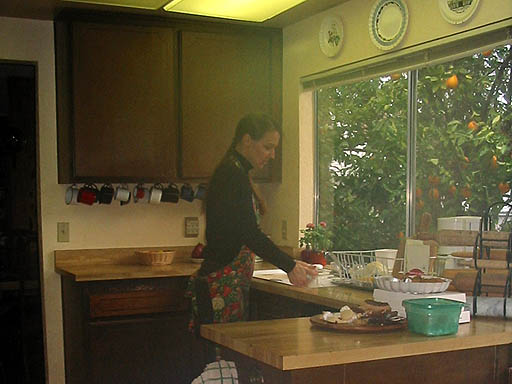 December 28, 2004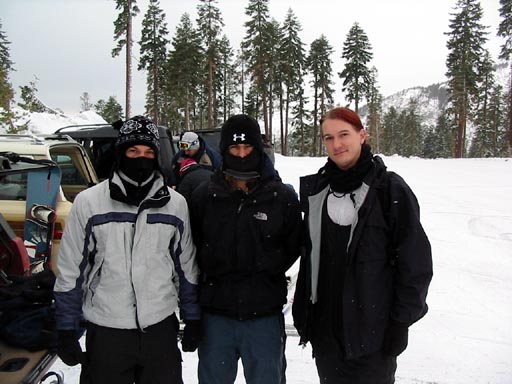 Michael, Andrew, and me, at Sierra-at-Tahoe
December 26, 2004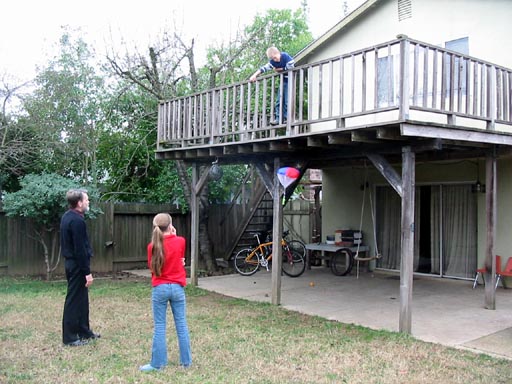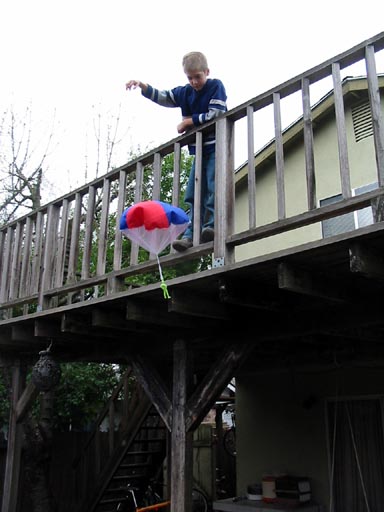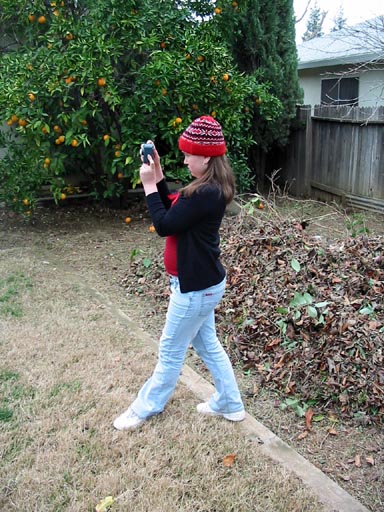 December 25, 2004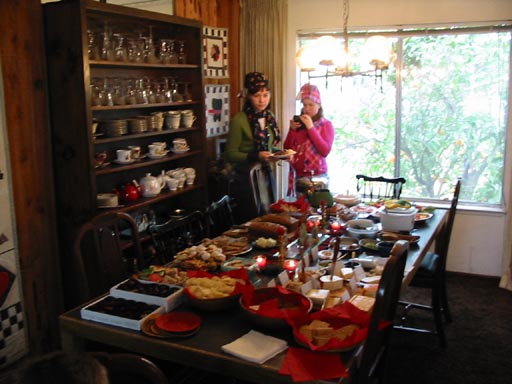 Olivia and Joanna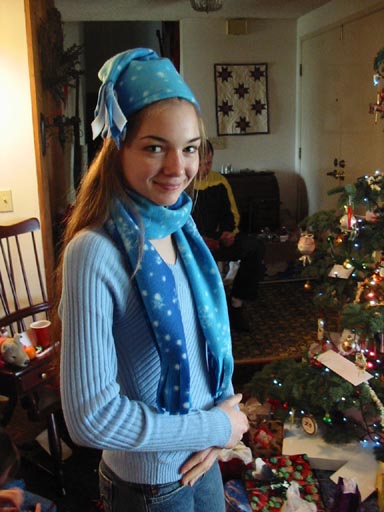 Carolyn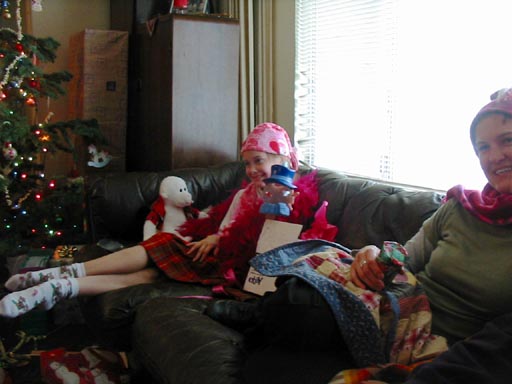 Abigail and Melissa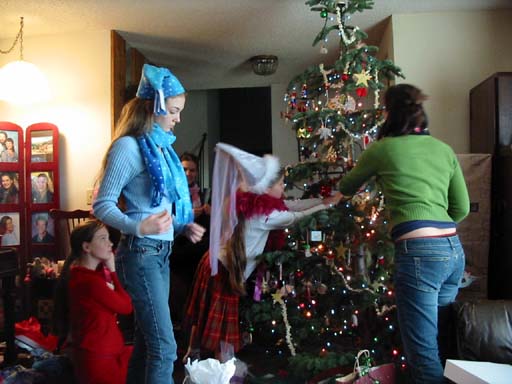 Jeanine (in red), Carolyn (in blue), Abigail (in the hat), Olivia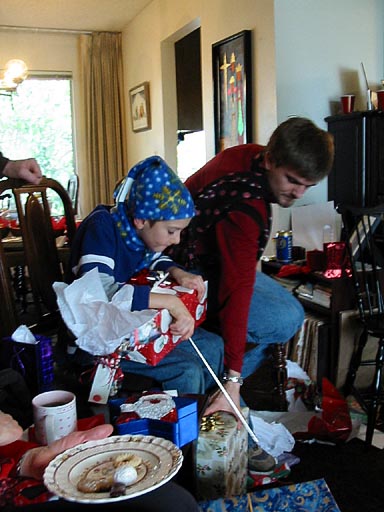 Timothy and Andrew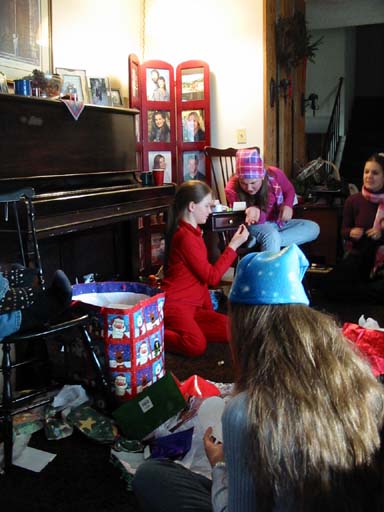 Jeanine (in red), Joanna, Julia, and Carolyn (facing away)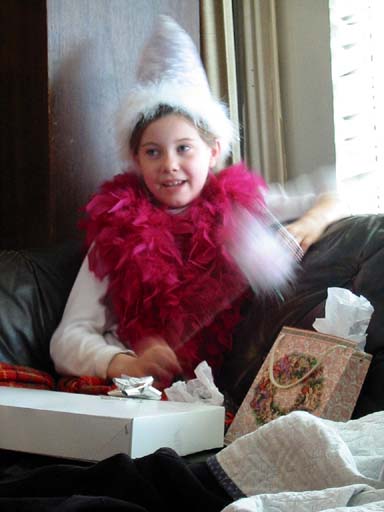 Abigail seemed to like her princess hat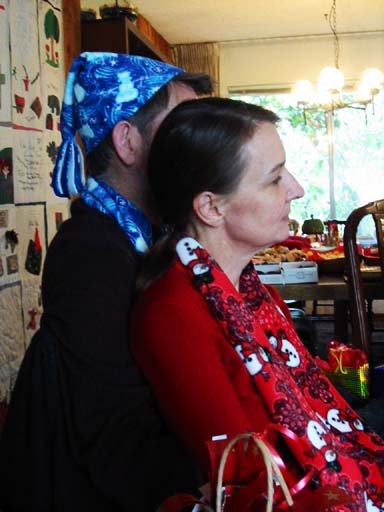 My parents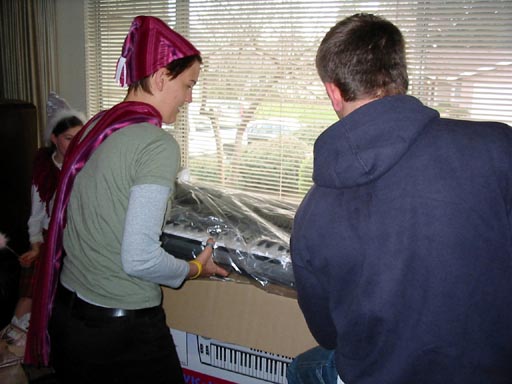 Michael helps Melissa lift her new keyboard out of its box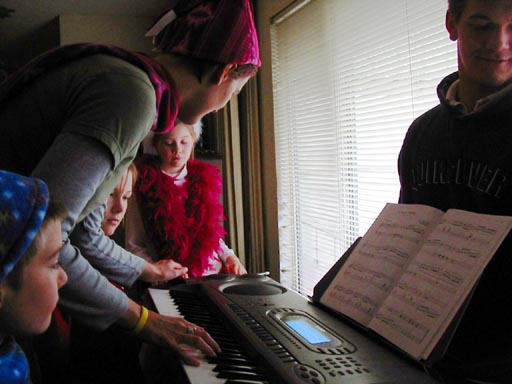 Timothy (front), Jeanine, and Abigail (in feather boa) pay close attention to Melissa's first experiments with the new instrument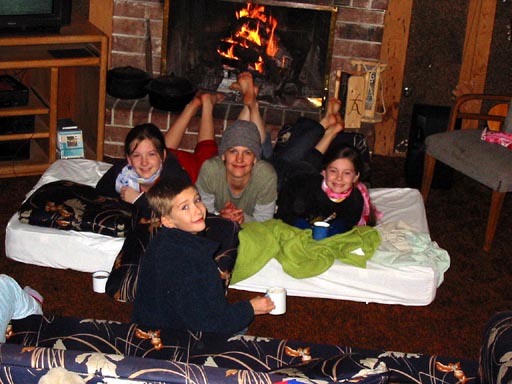 Jeanine, Melissa, and Abigail warm their toes by the fire after a late-night game of Capture the Flag; Timothy contents himself with a mug of hot cocoa
December 24, 2004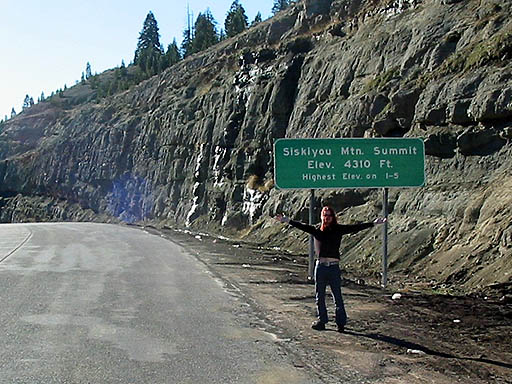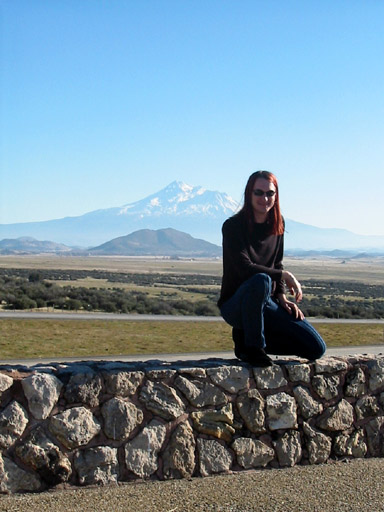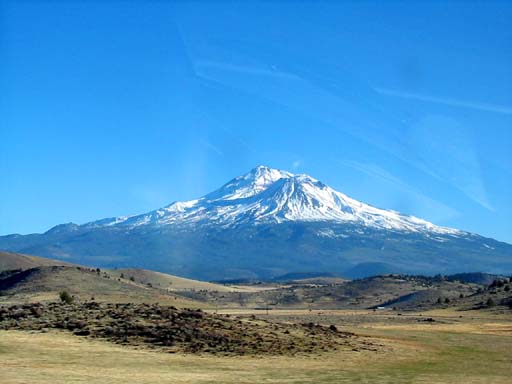 Mt. Shasta, active volcano, king of California peaks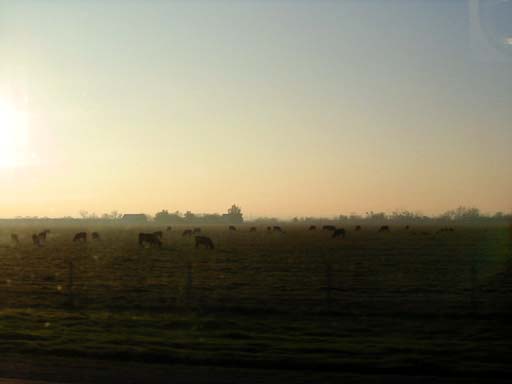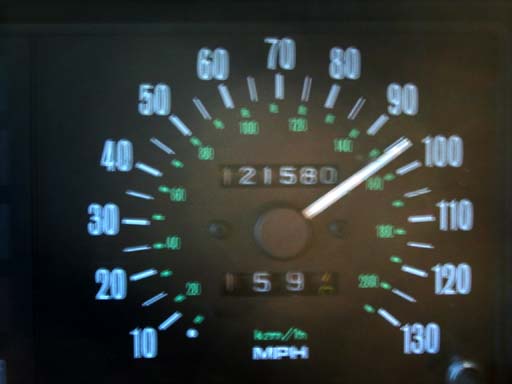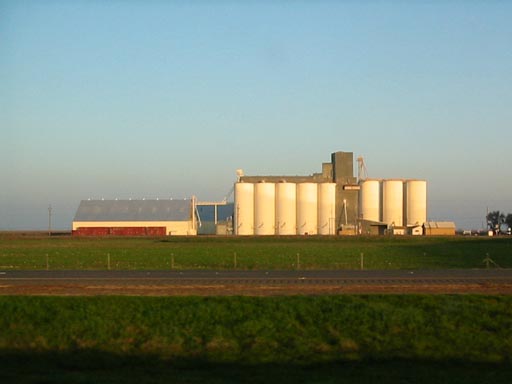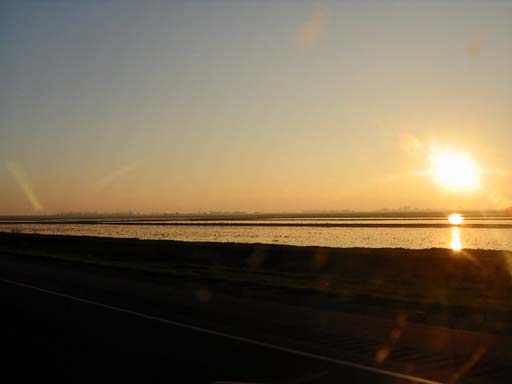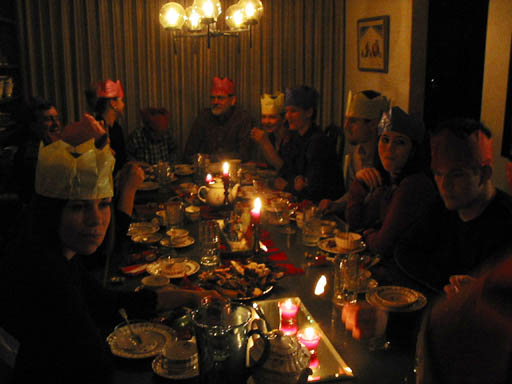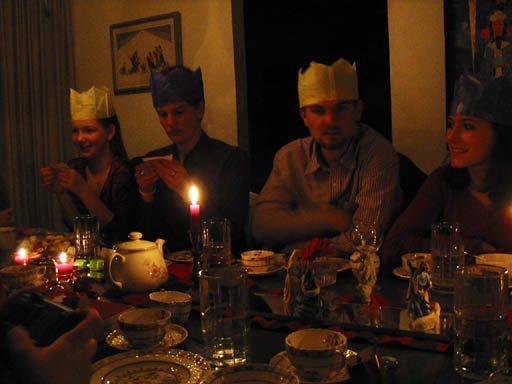 Fun with Christmas crackers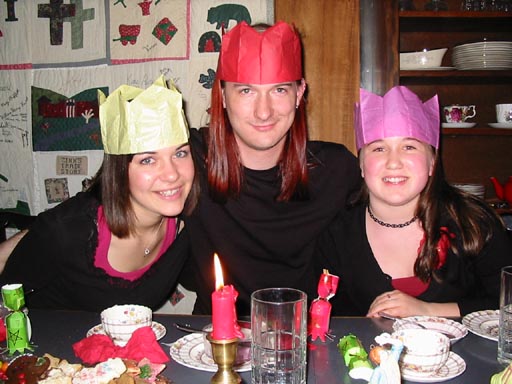 Olivia, me, Joanna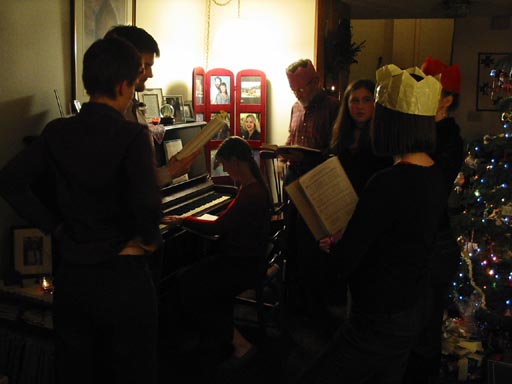 Carol singing, old family tradition
December 22, 2004
Scurry, scurry, rush and hurry: but it's all rather fun, actually. I know I'm supposed to feel all stressed out about "holiday shopping", and I'll admit that this year's incarnation of that enterprise has involved a degree of planning that I am usually unwilling to muster, but I actually feel mostly relaxed. Even the slow-moving pedestrian throngs downtown this afternoon couldn't get under my skin. It helps, perhaps, that it doesn't feel like an obligation; my family is pretty laid back about gift giving.
I'll be leaving after work tomorrow, driving to my parents' house in Sacramento. I'm looking forward to the trip; it's not a real road trip unless you can stop and dawdle along the way, of course, but an 800-mile haul down Interstate 5 must count as some kind of a minor adventure. The trip home, though - now that will be a real challenge: Pasadena to Seattle, eleven hundred miles, eighteen hours, a new personal record for long-distance driving. I'm sure I'll end up splitting it over two days - my ambition is not completely reckless, even though I'd like to imagine that it is - but that's still plenty of miles. Good practice for the grand Pan-American trip I keep dreaming of doing one of these days.
December 19, 2004
Blewett Pass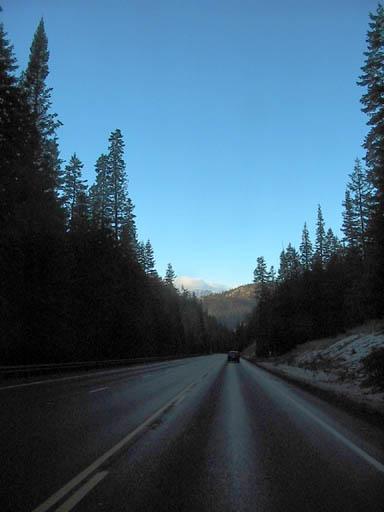 Accidental self-portrait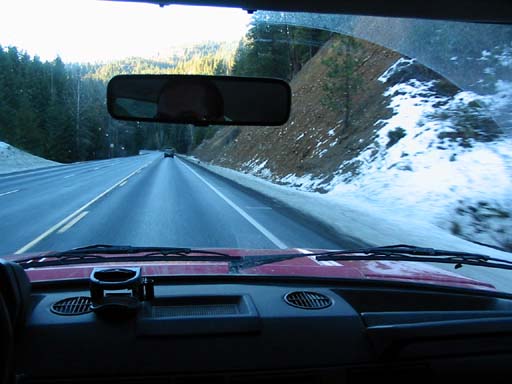 December 16, 2004
So it seems Mark Burnett's next reality show is going to be kind of an American Idol contest, taken one step further: the winner becomes the new lead singer for INXS.
December 14, 2004
Oh, bliss, bliss: a simple, slow chord progression under a curving, soaring melody just fell into my head in a few seconds of riffing on a Handel theme. I can hear it fully arranged, with two harmony voices, an intermittent marching snare drum, a low humming bass line... and it has nothing to do with the syncopated rhythm pattern I've been mostly stuck in since writing "Somewhere out here" back in March. Even better, I managed to get it all safely recorded before the inspiration turned to dust.
The guy at the coffeeshop finally got my name right, and actually apologized for calling me "Lars" all this time. Apparently the staff had something of an argument about my name yesterday, and it was finally determined that my name did, in fact, begin with an "M". I'm just tickled that they cared about it enough to try to get it right; I hope they succeed, as a business, because this is a restaurant that takes its customer service seriously.
December 12, 2004
The Sad Song, by Fredo Viola: a slow, gorgeous, soaring piece with a music video composed entirely of 15-second video clips recorded on the singer's digital camera.
December 11, 2004
SAAAANTAAARCHYYYYYY!!!!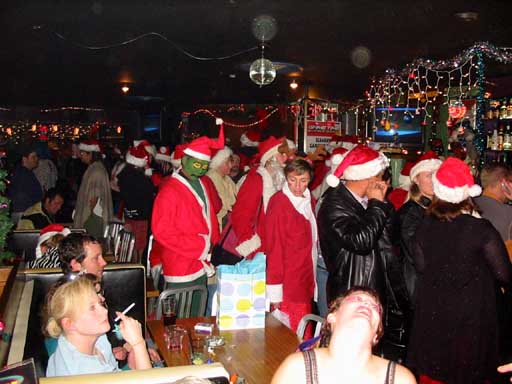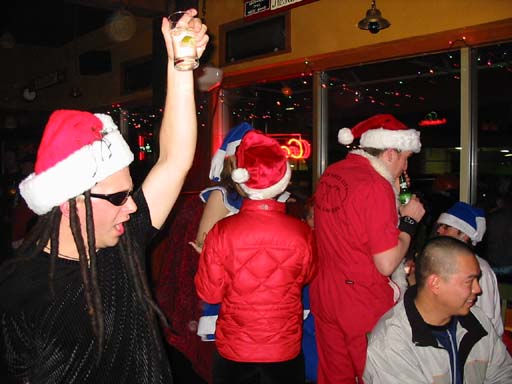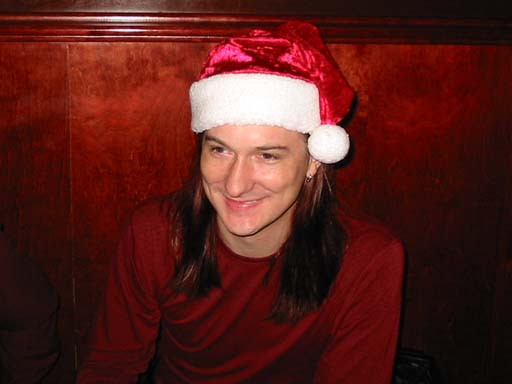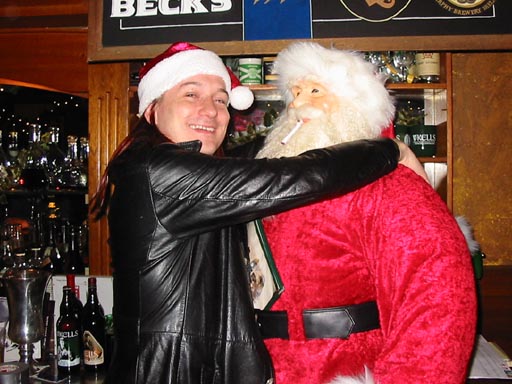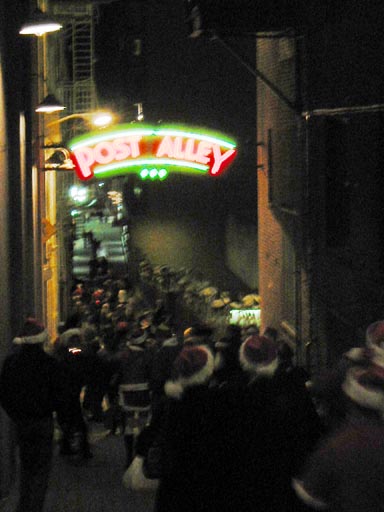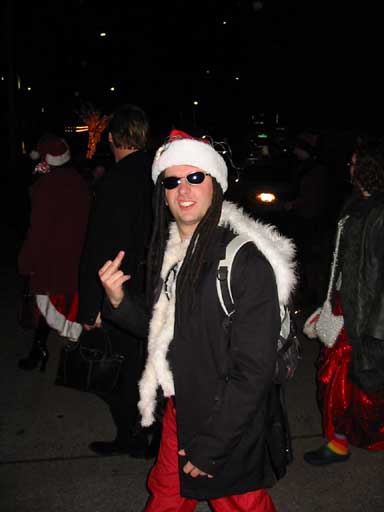 December 9, 2004
December 7, 2004
These voice lessons really are working. I'm learning to move smoothly from the low to the high range, and as a result the range I can comfortably use has expanded. I tried a couple of songs today that were difficult only a couple of months ago, and found that I could reach the high notes with ease. This is great; I had been wondering whether I was making any progress at all. This combined with a new microphone wiring setup Paul suggested made for an unusually satisfying recording session today. I'd always had trouble with my vocals, both because I was rarely satisfied with the way my voice sounded and because the signal I recorded was always a little noisy; if I turned it up enough to make it sound good in the mix, it brought in a lot of background hum. New cabling and a different preamp setup seems to have taken care of that problem. Of course the results still aren't perfect, but I'm learning to just live with that.
Last night at pool one of the bartenders handed out a few passes to see the Polyphonic Spree tonight. I'm not a huge fan of their music but was curious about their live show - two dozen people on stage performing at once just sounds cool. The event turned out to be a "Bartender's Ball" sponsored by some cigarette company, so the passes were actually the only way to get in, and included two free drinks. Well, I'm not going to complain about that (especially not after my friend Adam snuck us into the VIP lounge). Stephen Malkmus opened, and put on a much more interesting show than I expected. Everyone was playing vintage guitars, though his wasn't so much "vintage" as it was "old and busted"; covered in duct tape, it was the rattiest looking thing I've ever seen someone actually play. The music was all a kind of sly indie-rock, warm and laid-back; I rather liked it. The Spree themselves were deafening, so much so that it was hard to make out the music. I don't know whether it was just their sheer exuberance coming out, in an attempt to make as much noise as possible, or whether the Showbox staff simply don't know how to mix that many mics at once, but it was really too much. The show was a lot of fun to watch, though: the band members all wore choir robes in a variety of colors, there was a lot of synchronized dancing, everyone seemed to be having a great time. They had a harpist, two percussionists, eight backup singers, and a woodwinds player who switched between flute and midi sax. Very unusual aesthetic, altogether; kind of an indie-rock hippie gospel choir, except not like that at all.
December 4, 2004
Ecosystem Restoration in the Cedar River Watershed
A little over two years ago, Biodiversity Northwest attempted to stop Bonneville Power's planned construction of a second power line through the Cedar River watershed. The effort was ultimately unsuccessful, though the City of Seattle did require Bonneville to employ unusual (and expensive) construction techniques that would protect habitat and water quality: the whole line was built by helicopter, from logging to line-pulling; logged trees were left on the ground; and the towers were built without clearing ground cover.
Still, the project carries a heavy impact by its very nature, and some ecological restoration was necessary. The Friends of the Cedar River organized a volunteer work party today to plant trees along the banks of Rock Creek where it passes through the BPA right-of-way. We weren't restoring the original species - tall conifers that would grow to threaten the powerlines - but creating a new mini-ecosystem from scratch using low-growing local trees like dogwoods and willows. The idea is to maintain stable stream banks and provide habitat and a travel corridor for wildlife.
I spent most of the day punching holes in the ground with a fifty-pound rock bar. Into these holes we placed three-foot willow cuttings; willow is apparently hardy enough to sprout roots and start growing from any old branch as long as it is placed in well-watered ground right way up. In some areas this makes it something of a pest, but we covered the slash-filled eastern bank of the stream with the stuff. It should help hold the soil together and provide salmon-friendly shade for the stream's shallow pools.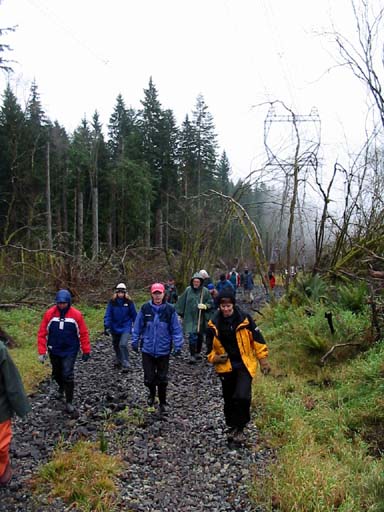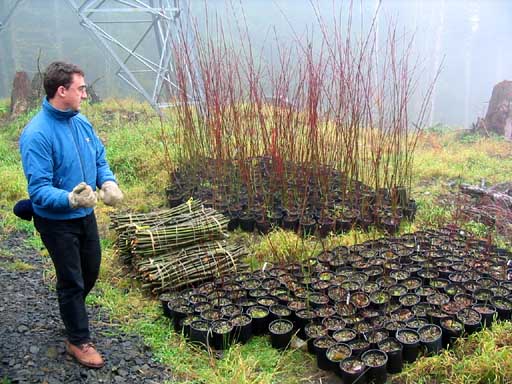 One hundred and seventy-five pots each of dogwood and red alder. Right, let's get started.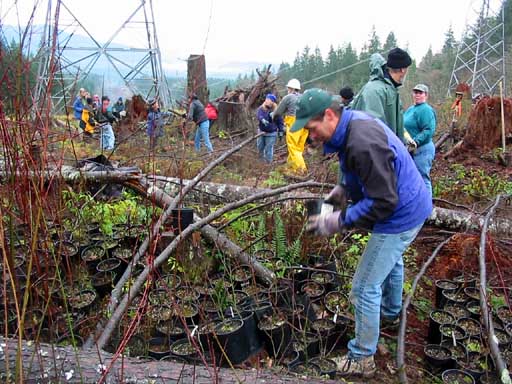 The work site was located on two steep slash-covered hillsides: getting around was as much work as the actual tree-planting.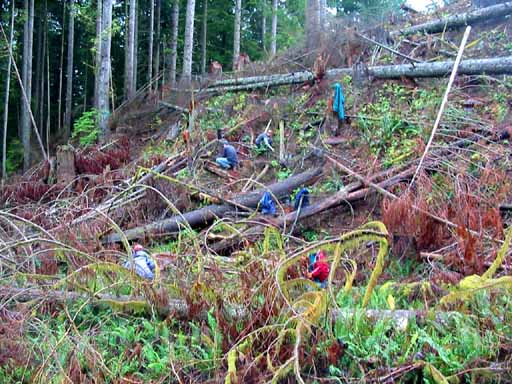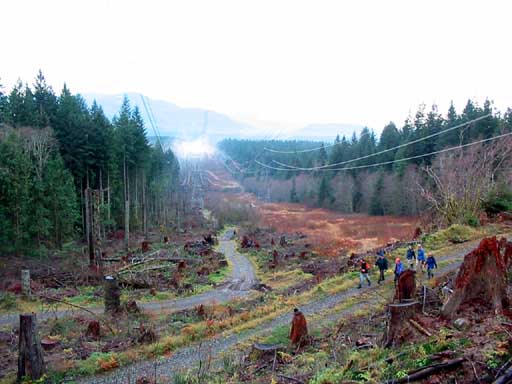 The line on the right was built in 1967 using traditional bulldozer techniques; compare the barren space underneath with the thick, complex habitat underneath the 2003 line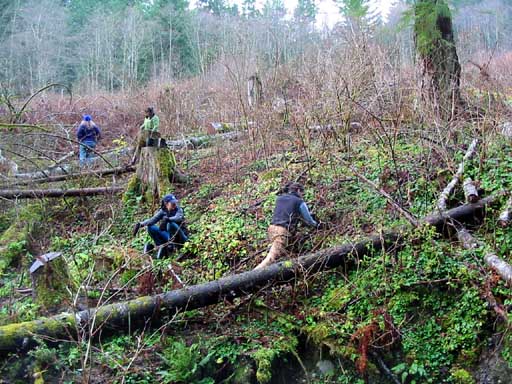 16-Road Deconstruction, Two Years Later
The watershed is closed to the public, so you can only get in as part of a city-supervised tour or a work project. It just so happened that our route today went by the head of 16-Road, which I helped return to its natural state after its decommissioning two years ago. I was very happy for the opportunity to walk back through and see how things have changed. The track of the former road is still clear, but vegetation is quickly reclaiming the land.
The City of Seattle's habitat conservation plan for the watershed involves around 20 miles of road deconstruction per year for the next couple of decades. Some of this restoration work consists of nothing more than tearing up the roadbed, digging tank traps, and letting nature take its course, but other roads (like number 16) run through sensitive areas and will provide opportunities for volunteer projects.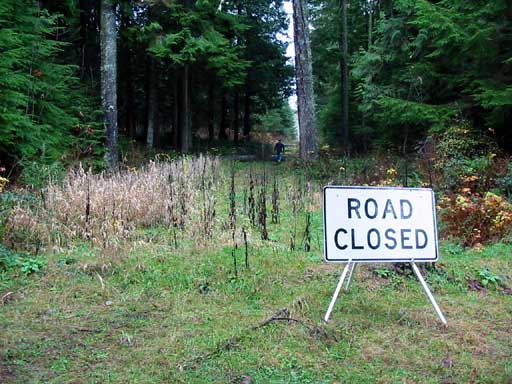 The trees we planted appear to be thriving.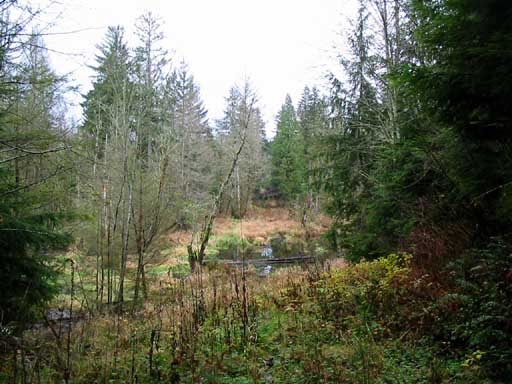 There was a road through this wetland; now it's a beaver pond.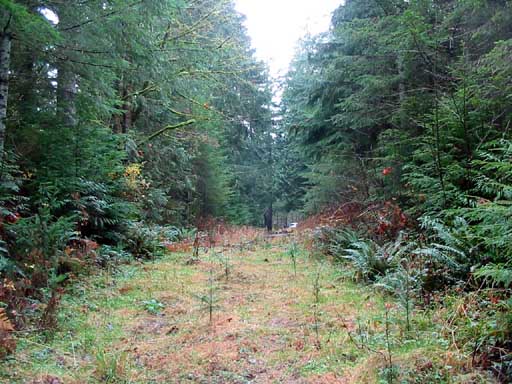 In another few decades the road's traces will have disappeared.
December 2, 2004