Archived Entries for November, 2003
November 30th, 2003
bleh. food poisoning. there goes that weekend.
November 28th, 2003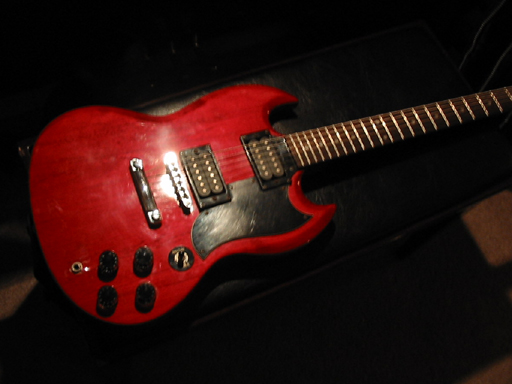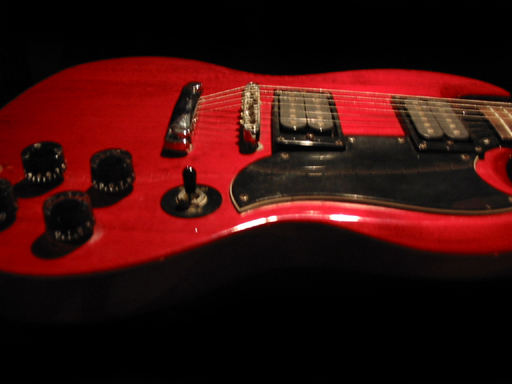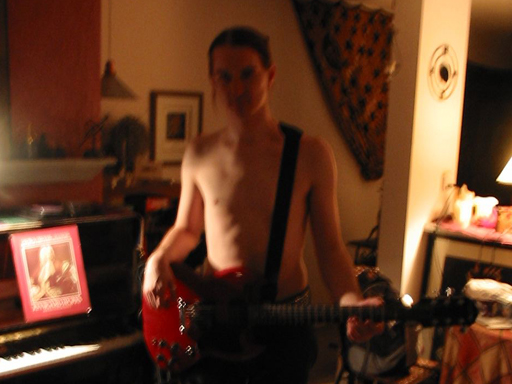 November 27th, 2003
Thanksgiving dinner this year happened at the home of two brand-new friends, met last night at Paul's Italian dinner: Saille and Jim heard I had no particular plans and invited me to join their celebration. Apparently most of the people they had invited had been uncertain whether they'd be able to attend, so they had extra seats and plenty of food. It turned out to be a very nice gathering, eight in all, with plenty of good classic Thanksgiving food and a lovely apple pie. We stayed and talked afterward - played Uno (a Harry Potter-themed variation with extra Invisibility and Howler cards) and Scattergories, then just talked until late. Now I am going to have to think of some excuses to get together with them again so perhaps we can turn this into a real friendship...
November 26th, 2003
Ahh, what a life. My friend Paul got a gift certificate to a local Italian restaraunt and decided to use it by inviting a group of friends out to dinner. It turned out to be a crowd of nine, five of whom I'd never met before. We had a family-style feast: calamari, manicotti, eggplant parmigiana, chicken marsala, and for dessert a bowl of tiramisu in which the rum was most definitely evident. Along the way I got invited to Thanksgiving dinner with a couple of near-strangers and their friends - exceedingly random, but it will be an adventure, I think. This is the best kind of social event: six to twelve nice people, some friends and some new acquaintances, and something to do in between fragments of conversation.
One of the users on the RB-NUG list recently posted a link to his newly-released project, Voice of the GoatCactus. I assume the title came from the same acid trip that spawned the program's algorithm: it is an automatic music generator. I have been interested in software-assisted music composition for a year or two now, and have done some work on a rhythm-pattern synthesizer, so I decided to give this application a look. It is an interesting effort, and it occasionally puts out an inspired riff or texture, but either the author really likes experimental ambient music or the project has a long way to go. It might make some good raw material to plunder for loops and background textures, though, and I am happy to see any progress made in this direction. I'll give the author credit, too: he actually finished his project and released it, which is more than I can say for my drum machine...
November 25th, 2003
I've decided: that's the guitar for me. I put down a deposit today, and will go back to pick up the guitar at the beginning of December. Now all I need is a shoulder strap, an effects pedal or two, and an amp... I suppose a lesson book wouldn't hurt, either.
November 24th, 2003
"All I've got is a red guitar, three chords, and the truth"
Well, I don't know about "the truth," but I've got the chords, and it looks like I might soon have the red guitar to go with them. I've spotted a red Epiphone G-400 for sale at a pawn shop and the gear-lust is upon me. It needs some care: the previous owner appears to have snagged the cord on something while plugged in, and the finish is cracked around the socket. There is a crack that may or may not go through the wood. Aside from that, and the fact that it's been sitting in someone's closet for a couple of years and needs a little cleaning up, it's in fine shape.
I am tempted. I always prefer to buy used when I can; I think it helps me feel a little less materialistic. I'd rather make things than buy them, but if I can't make them, fixing them up is usually close enough. I also feel a little uncomfortable around brand new, unblemished things, especially when they are nice looking or valuable. I know that they are going to be dinged up and introduced to the real world sooner or later, but I'd rather not be the one to do it. Better to buy something that's already been around the block once or twice - that way I don't have to feel too bad when I add a scratch or two.
My interest in the guitar is fairly recent. As a kid, I thought the saxophone was the coolest instrument ever invented. I wanted to be the guy behind that big, brassy, sassy sound, the guy up front wailing away on flights of improvisational bliss while the rest of the band laid down the foundation and kept the toes tapping. Guitars, on the other hand, were entirely too common: everyone and his kid brother wanted to play the guitar and start a rock band, and that was just too obvious a path to catch any of my attention. But I somehow found myself spending a lot more time playing keyboards than saxophone, and while I still love my sax and play it occasionally, I doubt it will ever be my main instrument. My tastes have changed over the years, too, and while I never quite developed a taste for straight-up rock, I kind of sidled around it from jazz via early-'90s grunge over to industrial music, especially the club-friendly stuff. I've come to appreciate a quality the guitar offers that you simply can't fake with a synthesizer: a crunchy, meaty, energetic sound, full of expression and harmonic complexity. A few simple chords and an effects box can hit you right in the gut, wrap you in a wash of sound.
So I'm going to learn to play the guitar. I know it'll be years before I'm good enough to play leads, and I can already do that just fine on the keyboards anyway. I want a dark, rich, crunchy, growly sound, a powerful rhythm guitar I can mix in underneath the voice and the synthesized textures; something to fill the hole I've been throwing samples and bleepy arpeggiated synths at.
That kind of sound means a guitar with humbucking pickups and a set neck, and as soon as I saw the Gibson SG body-style, I knew that was exactly what I wanted. An actual Gibson is way out of my price range, but from all accounts the recent Epiphone copy is a quality instrument with the exact properties I'm looking for. I don't know whether I will actually end up buying the one in the pawn shop - I plan to stop by today and take a closer look at it - but it is time to add a new instrument to my arsenal, and this is definitely the model I want.
November 23rd, 2003, 12:46 AM
Welcome to what is either the fifth or the sixth incarnation of my personal web site; I can't quite remember how many times I've redesigned it. I am about to simplify, redesign, and modernise my life, so it seemed like an appropriate time to restart my webjournal. This design moves away from my previous heavy use of live-generated, database-backed pages toward a CSS-driven design based on static pages. I intend to try out some new techniques and take advantage of the advancements made in browser technology since my previous design.